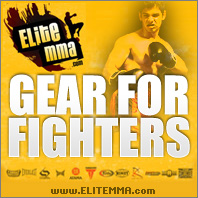 Looking to gear up? Here are few great options.

Up first is elitemma.com. The prices are excellent and shipping is just $2.95. Get product from Everlast, Combat Sports, Throwdown, Fairtex and more.

Another site to check for great deals is mma coupon codes the have coupons from the major suppliers, usually in the 10-15% range. Unfortunately they don't have an elite mma coupon now. That would save you a ton of cash.

And the last site to checkout doesn't have gear cheap, it has gear for free! Check out fightstyle.net for mma gear giveaweays and info on all the latest mma walkouts and giveaways.